Several readers have commented that they are eager to get their next Mike Travis fix. So … with Halloween coming soon, what better time to release 4 short stories about our favourite paranormal investigator and his clan. 'Halloween' comprises: Halloween Party, The Ancient Oak Inn, Nine Tenths of the Law and The Woman in the Grey Dress. The stories will be available in the very near future on amazon to pre-order, for delivery to your Kindle/PC on the magic night – 31st October – when ghosts roam, beasties howl, and things go bump in the night. Here's a cover reveal for you :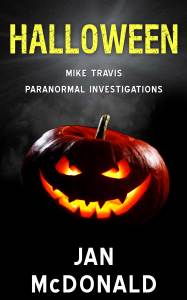 And there's a Christmas bonus coming your way too – more on that later.
In the meantime, I'm working on the next full-length novel for you.
Also, the Beckett Vampire Trilogy is getting a make-over. Coming soon Midnight Wine and Lycan will be sporting posh new covers! Lane and Co are the next in line, after the new Mike Travis Paranormal Investigation, for a full-length novel to complete the trilogy.
I hope you enjoy 'Halloween', ideal for reading around the fire by candlelight. Trick or Treat!