[easyazon_image add_to_cart="default" align="center" asin="B0076DHC8M" cloaking="default" height="160″ localization="default" locale="UK" nofollow="default" new_window="default" src="http://ecx.images-amazon.com/images/I/51sqVt2SwxL._SL160_.jpg" tag="ravencrestboo-21″ width="100″]
The dead of Crowsmoor are light sleepers.
Some say they sleep with one eye open, keeping watch over the restless ones.
When Beth Trevithick is sent as parish priest to the isolated and scattered community of Crowsmoor, in the middle of bleak Bodmin Moor, Cornwall, she finds a community entrenched in fear and superstition and belief in an ancient curse born of dark magic.
She gets unexpected help in the form of Mike Travis, ex RAF helicopter pilot medically discharged after crashing in war torn Afghanistan, he has turned to his other love, the paranormal, devoting all of his time to paranormal investigation.
Beth soon discovers the fear and superstition in Crowsmoor are well founded
and together with Mike fights for her own sanity and her life.
If you liked the video trailer, take a sneak peak at the book.
CHAPTER ONE: BLACK DOG.  
Crowsmoor's dead were light sleepers.
Some said they slept with one eye open. Keeping watch over the restless ones.
A funeral in a small community was always difficult but in a place that sometimes seemed forsaken even by God, the tolling of the church bell lay heavy on the priest's heart. The mourning bell had tolled that day for a frail, elderly woman who should have gone peacefully to her well deserved rest, sent on her way by suitably grieving friends and relatives, but that was rarely the case in Crowsmoor where the church itself cast its own long shadows over the village.
Reverend Elizabeth Trevithick, Beth to everyone except the Bishop, shivered and drew her black woollen cloak tighter around her slight frame. The icy cold that crept down her spine had little to do with the dank mist that veiled her long, dark hair giving her an otherworldly look; it was more to do with the residual mud surrounding the newly dug grave that now held the mortal remains of the latest resident of St Michael's graveyard.
When her time came she wanted the heat of the crematorium not the slippery cold of the wet churchyard clay but she knew that if she was still the Vicar of Crowsmoor when that time came, it would be her duty to lie amongst the ranks of all the previous incumbents that had died there since 1784. There was nowhere else to call home or family. Being orphaned at three she had spent her childhood and teenage years in foster care. But in any case, there would be no choice.
It was a matter of containment, they said.
Beth shook herself in an effort to be rid of the centuries of black superstition that logically she had no truck with. It made her angry that she was expected to recite prayers over an ancient grave every single day because of old fears and superstitions. It made her angry that even in the twenty first century those deep rooted fears and superstitions had been kept alive, including the grave nearest to the gate. The grave which had been put there in the seventeenth century and contained a black dog which the village believed would protect them from the evil that they believed also lay beneath the churchyard sod. All of which the Bishop seemed more than happy to ignore. And it made her angry that she fulfilled these duties instead of trying to educate the village and free them from the dark past that clawed its way into the present.
She looked around at the graves of the village dead and said a prayer for them anyway. Something vague and nameless crept over her and she shrimmed again.
A light footfall on the gravel path prompted her priestly mask to fall back into place. Composed, she turned to see Kate Mabyn approaching and she instantly relaxed. Kate was her best friend, the village doctor and in spirit if not blood, the granddaughter of the woman interred that day. She had been brought up by an aunt who had long since been sensible enough to leave the village and the old lady buried that day had been the nearest to a grandmother that anyone could have been and Kate had always called her 'Gran'.
Beth put out her arms and hugged her friend.
"I'm so sorry Kate. I know you didn't want this."
"It's OK Beth. It's what the old lady wanted, though God knows why." A deep frown settled itself above the fine dark eyebrows that framed intelligent amber eyes. "Do you think he does? Know, I mean?"
Beth fought another shudder. "I sometimes think that God has very little to do with anything that goes on in this village. But that's why the bishop allowed me to come here, isn't it? A village steeped in 'superstition and pagan nonsense', and I couldn't do any more damage in view of my previous indiscretion. He couldn't find a darker corner to hide me. I'm a thorn in his side and I guess he thinks that out of sight out of mind …"
Kate took a black woollen scarf from the massive soft leather satchel that was her constant companion and wrapped her head and shoulders against the mist and damp.
"That's crap. You're the best thing that's happened to Crowsmoor in centuries, we all think so. Talk about shining a light in a dark place." As if to illustrate, another delve into the bag brought out a lighter and cigarettes, she flicked her lighter into life, lit a cigarette and sucked hard on it. She exhaled, somewhere between a dying breath and a mournful sigh. The smoke drifted in blue-grey layers blending with the mist from the moor.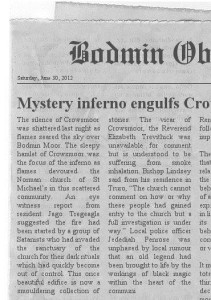 [easyazon_cta add_to_cart="default" align="center" asin="B0076DHC8M" cloaking="default" height="28″ key="small-light" localization="default" locale="UK" nofollow="default" new_window="default" tag="ravencrestboo-21″ width="137″]